How to Make a Living Succulent Pumpkin Planter
I absolutely love shopping online for succulents and gardening supplies. If you aren't already saving money by comparing prices online, give it a try! Here are six of my favorite things that I have purchased online as I build my own succulent oasis:
Pumpkins are one of my favorite parts of autumn. They are perfect for the season and can be used in so many different ways to decorate, from jack-o-lanterns to centerpieces. I remember having carving contests with my siblings–making sure to scare the littlest ones with the gooey insides.
This year, I decided to try my hand at making a living succulent pumpkin planter. Since I'm a self-proclaimed succulent expert, naturally I need to mix two of my favorite things–a pumpkin and some of my favorite succulent cuttings.
A succulent pumpkin planter is a fun and festive way to add some greenery to your home for Autumn, Halloween, Thanksgiving, or any season! They are easy to make and only require a few materials.
With a little bit of care, your succulent pumpkin planter will last the whole season, and some of your succulents will be ready to hop into a new arrangement as soon as the Christmas season arrives.
Related: How to Make a Succulent Advent Calendar
What You'll Need:
7 Easy Steps to Create a Succulent Pumpkin Planter
You don't actually need to hollow out your pumpkin in order to use it as a succulent planter. In fact, leaving your pumpkin whole will make your succulent arrangement look fuller than ever, and it will keep your pumpkin fresh for longer. Use these steps as inspiration to design the perfect, unique succulent pumpkin planter for your home.
Step 1: Paint Your Pumpkin (Optional)
If you want to add a pop of color to your succulent pumpkin arrangement, start by spray painting your pumpkin with one or two coats of paint. Choose any color you like.
I kept my pumpkins their natural orange color, but I love the look of freshly painted pumpkins. Let the paint dry completely before moving on to the next step.
Step 2: Remove the Pumpkin's Stem (optional)
Remove the stem from your pumpkin if you prefer to work on a simplified surface. You can do this by either cutting it off with a sharp knife or twisting it until it pops off.
The stem on my large pumpkin was quite hard to remove because it was very dense. I had an extremely sharp knife and had to slice down the center of the stem and then crack it apart and slice it.
Try not to dig into the top of the pumpkin because doing so will cause the pumpkin to start the rotting process earlier. The goal is to keep both the pumpkin and the succulent alive so that your planter lasts the entire season. Don't worry about how it looks after the stem is removed because it will be completely covered with moss.
Related: How to Make a Succulent Wreath
Step 3: Cover the Pumpkin with Moss
Decorative moss will give your succulents a natural base to nest into. Some hardy plants may even take root and thrive during their time as part of your succulent pumpkin planter.
Start by hot gluing the moss around the top of the pumpkin. Make sure that the moss is completely covering the stem opening. If you kept your stem, simply work around it.
Glue the moss in a spiral pattern, allowing it to spill into natural formations around the pumpkin. Try to keep the moss as tight to the pumpkin as possible so that there aren't any gaps.
Step 4: Choose Your Succulents
The key to making a succulent pumpkin arrangement that will last the whole season is to choose succulents that are still actively growing. This means avoiding any brown, yellow, or withered leaves. If you have any succulents with long stems, cut them down to about 2 inches.
Choose a variety of colors and types of succulents to add to your pumpkin planter. You can collect autumn colors like reds, yellows, and oranges, or even find black succulents to add to your arrangement. If you don't have the right colors on hand, you can always buy more succulents to include.
Step 5: Attach the Succulents
Adding a variety of different succulents to your planter will add a lot of texture and interest. You can mix and match tall, short, and trailing succulents.
If you're using hot glue, apply a conservative amount to each succulent and press it directly in the moss.
If you're using greening pins (I bought these), place a pin around each succulent and insert it into the pumpkin where you'd like it to lay. Start in the center of the pumpkin and work your way down the sides in a spiral pattern.
Step 6: Fill in the Gaps
Once all of your succulents are attached, fill in any gaps with more moss and decorative pieces. You can add things like mini pinecones, acorns, faux floral stems, colorful leaves, or ribbons.
Adding decorationgs will keep your arrangement looking full and help provide moisture to your succulents each time you water them. The arrangements can be made to match your home's decor and taste perfectly.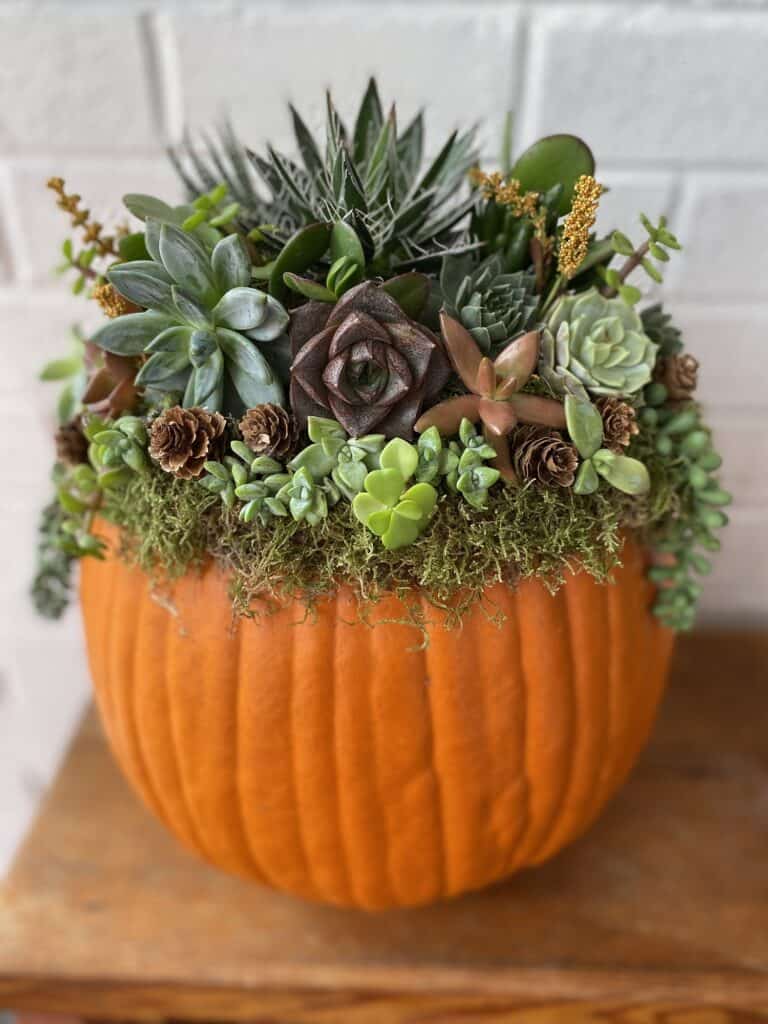 Step 7: Enjoy Your Succulent Pumpkin Planter
Finally, it's time to enjoy your succulent pumpkin planter! Place it on a windowsill, mantle, table, or any other spot around your home that could use a little extra greenery.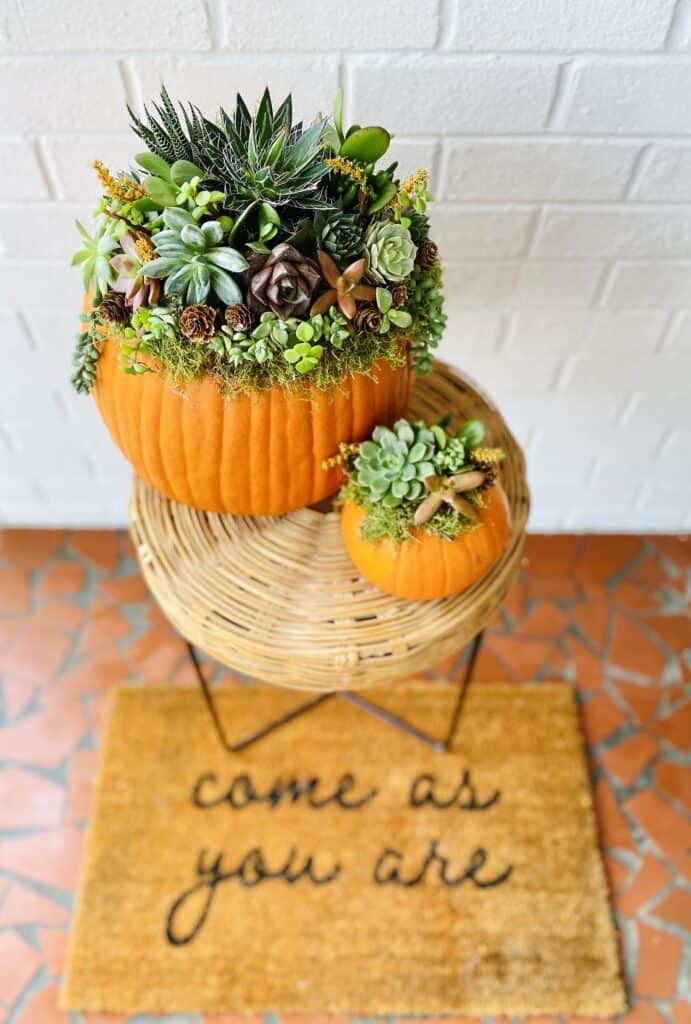 These make great centerpieces for fall parties and celebrations. If you keep your pumpkin planter indoors, make sure to water it every week or so. I like to use a spray bottle to directly moisten the moss so that I don't overwater and cause the pumpkin to rot.
How to Care for Your Pumpkin Succulent Planter
Now that you know how to make a succulent pumpkin planter, it's time to learn how to care for it. These easy tips will help your arrangement last the entire season.
Give it Sunlight
Keep your pumpkin planter in a cool, dry place. A windowsill is ideal because it gets indirect sunlight and won't get too hot or too cold. When it's time for dinner or a party, you can move it to the table or anywhere you'd like.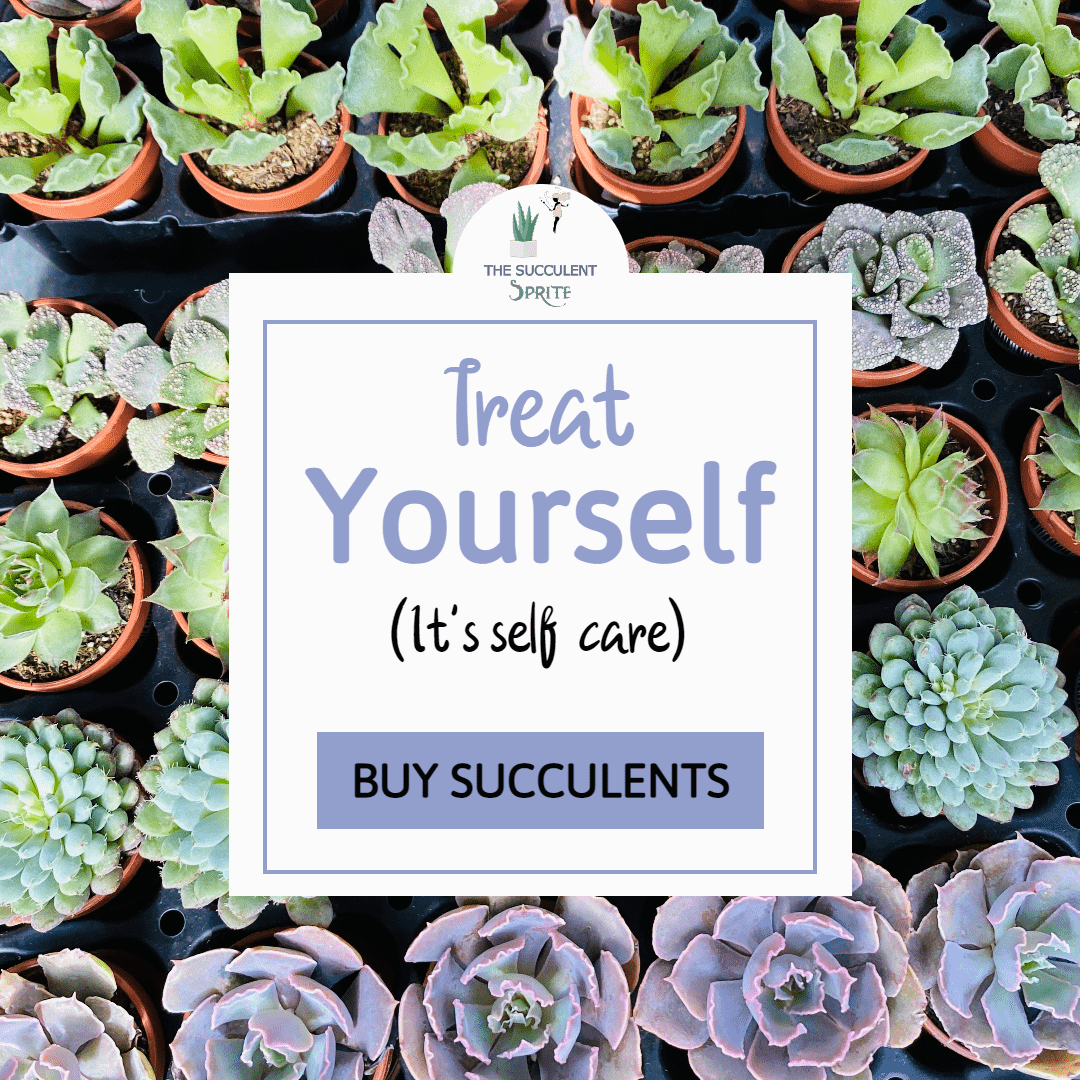 Give it Water
Water your pumpkin planter every week or so. I like to use a spray bottle to avoid overwatering and causing the pumpkin to rot. Succulents usually like more water at a time, but this situation is a little more delicate than using a normal succulent pot.
Give it Soil
If your arrangement starts to look sparse, add more Sphagnum moss or decorative pieces to fill in the gaps. You can also add more succulent cuttings, or switch out the cuttings that start to wilt. Put them back into well-draining succulent soil so that they can recover.
Give it a Rest
When the season is over, remove the succulents from the pumpkin and repot them into a regular succulent pot. The pumpkin can be composted or thrown away.
Succulents Can Be so Versatile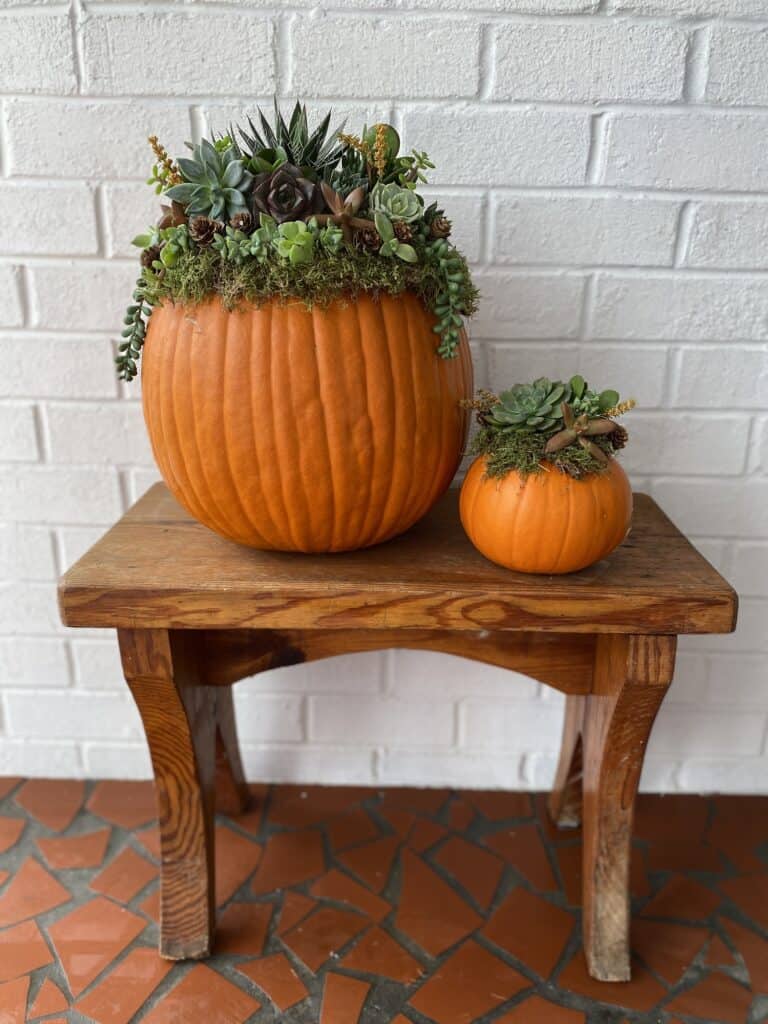 I love that succulents can go right from one decoration to another. As the season change, so do the decorations in your home. But the only thing that changes with your gorgeous succulents is that they continue to grow as long as you care for them properly.
Since these tiny plants are so versatile, you can easily create planters that include pumpkins but are not ON the pumpkins. There are so many options when it comes to decorating with succulents and pumpkins during the fall season.
I hope you enjoyed learning how to make a succulent pumpkin planter. These easy tips will help your succulent centerpiece last the entire season and then some. Once you're ready to bring in the Christmas season, your succulents will be, too.
With just a few simple materials and some easy steps, you can have your very own succulent pumpkin planter. These make great succulent gifts, party decorations, and centerpieces. Get creative and have fun with it.
Related: How to Make a Living Succulent Christmas Tree Ornament