10 Things to Include in a DIY Valentine's Day Succulent Basket
I absolutely love shopping online for succulents and gardening supplies. If you aren't already saving money by comparing prices online, give it a try! Here are six of my favorite things that I have purchased online as I build my own succulent oasis:
Showing love with a thoughtful gift is one of the most heartfelt gestures that anyone would appreciate. Whether it's for a special someone or just to show appreciation to an acquaintance, there's no better way to get your thankfulness across than by creating a Valentine's Day gift basket for the succulent lover in your life.
With succulents being some of the trendiest plants around and perfect for indoor decoration, why not craft the perfect surprise with all of the essential supplies that make up an unforgettable gesture?
Crafting the perfect Valentine's Day gift for succulent lovers is no easy feat; but with the right items, your special someone will be showered with love and appreciation.
Start by picking out a festive basket or container to house all of the goodies. These could range from handmade pottery to a decorative wooden box – anything that fits the aesthetic of your valentine will do.
Next, pick out an assortment of succulents that fit both their style and home decor. Make sure to include soil and mini tools as part of the bundle! Add a few extra treats like jewelry, cards, or chocolates – anything goes! With this combination of thoughtful items put together in one beautiful package, they are guaranteed to have a Valentine's Day they won't soon forget.
10 Things to Include in a DIY Valentine's Day Succulent Basket
While you can include just about anything in your succulent gift basket, here are some of the basics you won't want to forget.
1. Festive Basket or Container
To craft the ideal Valentine's Day gift box, consider which type of aesthetic you would like. If traditional and romantic charm is what you're aiming for, a wicker basket with vivid red and pink accents could be just right! For something modern and unique, an upcycled crate or wooden box coupled with colorful liners will bring a sense of creativity that your valentine will appreciate.
Selecting the perfect container for your present reflects how much thoughtfulness went into it—let your special someone know they mean the world to you this season with this Valentine's Day succulent gift basket.
Pro Tip: Consider choosing a large basket with high sides like this one. Any shallow container won't work well to hold items in an upright position.
2. Assortment of Succulents
In order to craft the best succulent gift basket for your valentine, you'll need at least one real succulent. If your special someone is new to succulents, consider including more types of succulents in the basket. If they already have a decent collection of lovely plants, you might consider focusing on adding other items instead. Either way, you can buy succulents online or in person at your local garden centers.
Succulents are an excellent choice to brighten up your Valentine's Day gift basket. You can find a variety of colors, sizes, and shapes that fit almost any style. Mini-sized echeveria cuttings add a cute, delicate touch while larger varieties provide a bold visual impact. There are also heart-shaped succulents like string of hearts and heart leaf hoya if you're looking for something extra special and unique!
3. Succulent Soil Mix
If you want the succulents to live long after you've gifted them, choosing an appropriate soil mix is critical. A custom potting mixture designed for cacti and other succulents works wonders as it contains various sizes of particles that ensure proper drainage. Adding some pumice or sand to this blend gives even better aeration to these desert plants.
4. Mini Gardening Tools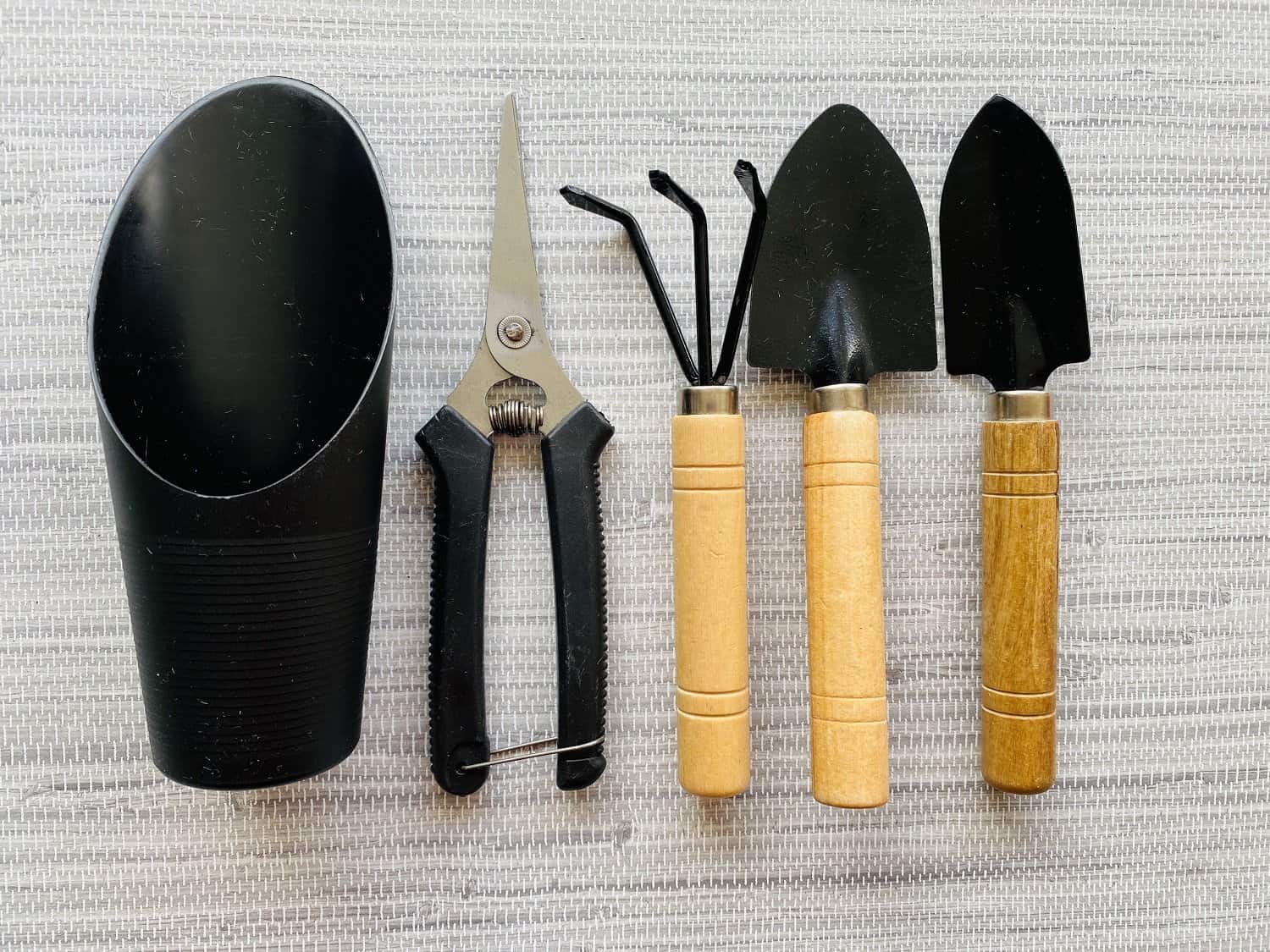 A mini gardening tool set is the perfect addition for creating a simple, yet thoughtful, Valentine's Day gift basket for a beginner succulent grower. With a shovel, spade, rake, and pruning shears, your valentine can get creative and tackle any small-scale gardening project.
Find some mini tools made from durable materials and yet designed to be lightweight like this 5-piece set. This makes them easy to maneuver in tight spaces, which seems to be a common theme with succulent arrangements. Whether used for tending to a succulent garden or planting flowers in the spring, having basic gardening tools will make all the difference.
5. Chocolates or Candies (Optional)
Every Valentine's Day basket could use a bit of sweetness! Opt for classic options like candy hearts and chocolate kisses. If you're feeling adventurous, add some unique candy-like marshmallows or gourmet gummy bears.
For the ultimate indulgence, fill the basket with artisan chocolates: from creamy truffles to decadent caramels. Your valentine will be delighted with this tasty treat that won't overshadow the succulent theme of your basket.
6. Valentine's Day Card
A Valentine's Day basket for succulent lovers wouldn't be complete without a special card. Whether you buy one or make it yourself, it's always a nice touch.
For a store-bought card, go for something classic and heartfelt with an uplifting message. If you decide to make the card at home, write something personal and meaningful. Make sure it reflects your relationship and explains why your recipient is special to you.
With either option, make sure to include some creative embellishments to make it extra memorable! And of course, if you want to tie in your succulent theme, use a card like one of these.
7. Decorative Accessories for the Basket (Ribbons, Bows, etc.)
Spice up your Valentine's Day basket with some decorative accessories, too. Ribbons, bows, and balloons can all create a fun and festive atmosphere.
To add a touch of romance, try adding delicate paper flowers or lace trims. For something extra special, use bold-colored ribbons to make shapes and patterns like hearts or stars. There are endless possibilities when it comes to decorating your basket – let your creativity shine.
You can usually find all kinds of cheap accessories at your local Dollar Tree or the Target dollar spot. But get there soon because these items get swept up quickly during the Valentine's Day season!
8. Succulent Book
A succulent book for beginners is the perfect addition to your Valentine's Day basket. For those new to caring for these plants, it's an invaluable guide that will help them become successful succulent gardeners.
Look for a book with step-by-step instructions on how to choose and care for different types of succulents. It should also include helpful tips on how to create an attractive display as well as advice on troubleshooting any issues. With the right book in their hands, your special someone can have a thriving succulent garden in no time.
If your valentine is already a succulent pro, you can skip the beginner stages and go straight to something like this adorable and informative Sticker & Chill succulents & crystals book.
9. Gardening Gloves
Add an element of practicality and charm to your Valentine's Day succulent basket with a pair of succulent-themed gardening gloves! From cacti to aloe vera leaves and more, you can find the perfect pattern for your special someone.
These gloves not only look great in photos when it comes time to show off their garden but it also provides protection for your special someone from any pesky prickles while tending to their succulents. The basket would not be complete without them!
10. Extra Gifts
Adding some extra succulent-themed gifts to your Valentine's Day basket is a fun way to show you care. Look for cute items like these succulent earrings or a vintage succulent puzzle.
Another idea for your succulent-loving valentine's basket is a cozy hoodie. You can choose from different graphics to find the best one.
These types of gifts will be sure to bring smiles and help turn any dull space into something that looks vibrant. And don't forget, they'll also make perfect conversation starters when it comes time to show off your well-thought-out basket.
Your Valentine Will Be Smitten With a Succulent Gift Basket
Showing your affection this Valentine's Day has never been easier – or more succulent! From cute earrings to mini gardening tools, there are so many options when it comes to adding extra special touches to a succulent gift basket.
Whether you go with a romantic message or simply let the gifts speak for themselves, you're sure to make your valentine feel loved and cared for. Let the vibrant colors of these plants show how much you care!
A succulent gift basket is a great way to show your special someone how much they mean to you. And don't forget the perfect finishing touch, a small note with a romantic message. Let them know that no matter how much time passes, your love for them will always be as bright and alive as their succulent garden!