DIY Succulent Floating Candle Vase with Water Beads
I absolutely love shopping online for succulents and gardening supplies. If you aren't already saving money by comparing prices online, give it a try! Here are six of my favorite things that I have purchased online as I build my own succulent oasis:
If you've wondered if there are some gorgeous ways to use succulent cuttings to brighten your world just a little, this amazing floating candle centerpiece tutorial is for you.
Succulents are resilient, and so much so that I've seen gardeners giving away free cuttings just to keep them from going to waste. There are some types of succulents that become overgrown and need to be trimmed. This gorgeous succulent-themed floating candle decoration using water beads is the perfect solution.
When I saw how water beads can turn any glass vase, bowl, or even fish tank into gourgeous scenery with just a few items, I had to see how my succulent clippings would look. And I was not dissapointed!
If you enjoy creating new centerpieces for the holidays, this tutorial will work for Christmas, Valentine's Day, Easter, or any other occassion you have in mind. You can use the same process to create all kinds of decorations in just a few simple steps.
Necessary Supplies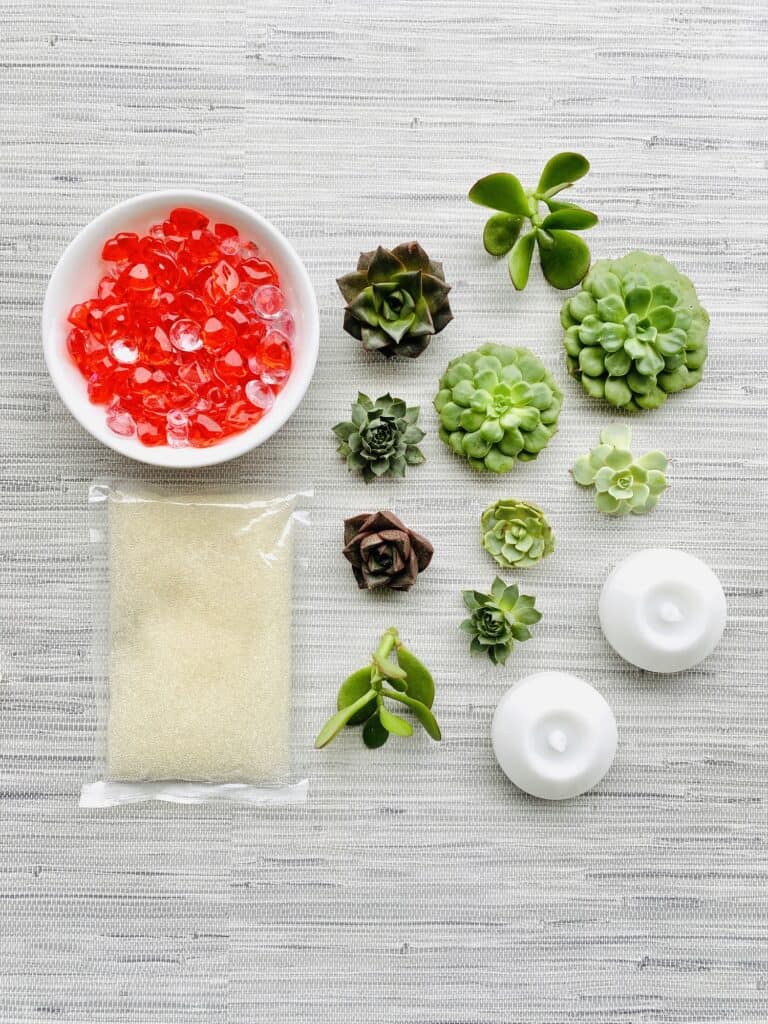 If you're just creating these for fun using items around your home, you might have everything you need on hand. But don't be afraid to shop around at your local Dollar Tree, Hobby Lobby, and even thrift stores to find the right pieces. Here are the things I used to create these gorgeous centerpieces.
2-3 wide-mouth glass cylinder vases (the thinner cylinder ones would work, but not as well, since most rosette-shaped succulents can be fairly wide)
Vase filler (This is where the creativity comes in. I used some acrylic red and pink hearts, but the sky is the limit on what you can use. Consider your theme and run with it!)
Scissors or garden pruning shears
8 Steps to Create a Glass Succulent Centerpiece with Water Beads
While this project would work well for any holiday by changing up the theme and colors of the vase fillers, it would also be stunning with just the succulents. Review the steps and plan out your final project before getting started.
1. Grow the Water Beads
When you first buy water beads, they will be tiny, dry and hard. To prepare them for the project, start by soaking them in a small tub or tote of lukewarm water to get them to their full size and softness. Make sure the container is large enough because there will be more beads than you expect!
Depending on which brand of water beads you purchase, this step doesn't take too long. Plan ahead and expect it to take one to two hours.
When you're ready to assemble your centerpieces, do this step first so that the beads can be growing while you prepare your succulents.
2. Prepare Your Succulents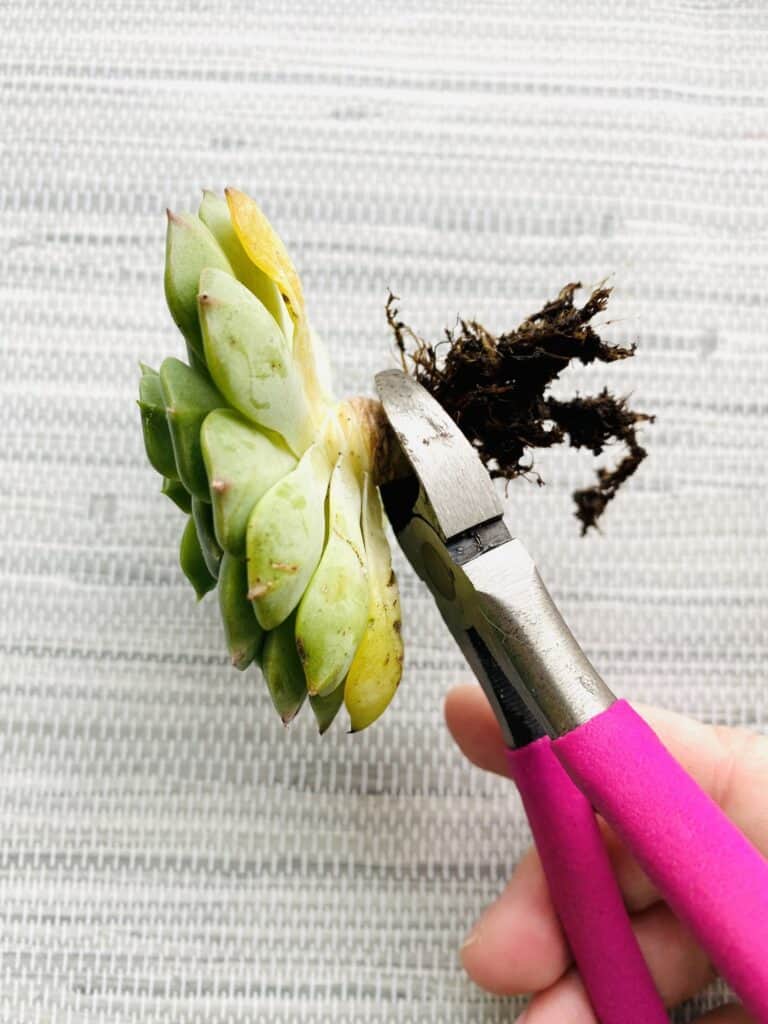 Depending on the size of the vases and the succulents, you need between 10 and 20 succulents. I added three layers using about three succulents per layer. If you find some of your succulents to be too big, you can peel off leaves from the bottom to make the overall size smaller.
Using clean scissors or pruning shears, remove all dirt, excess stems, and roots from the succulents and gently rinse off any debris with cool water. Be careful not to bruise or damage the leaves. Set the succulents aside where they will not be knocked on the ground or disturbed in the meantime.
3. Prepare the Materials
Make sure to collect all of the materials you will be using for your floating candle succulent centerpieces. You'll want to have everything available at your designated work station before you take the water beads out of the tub.
4. Collect the Water Beads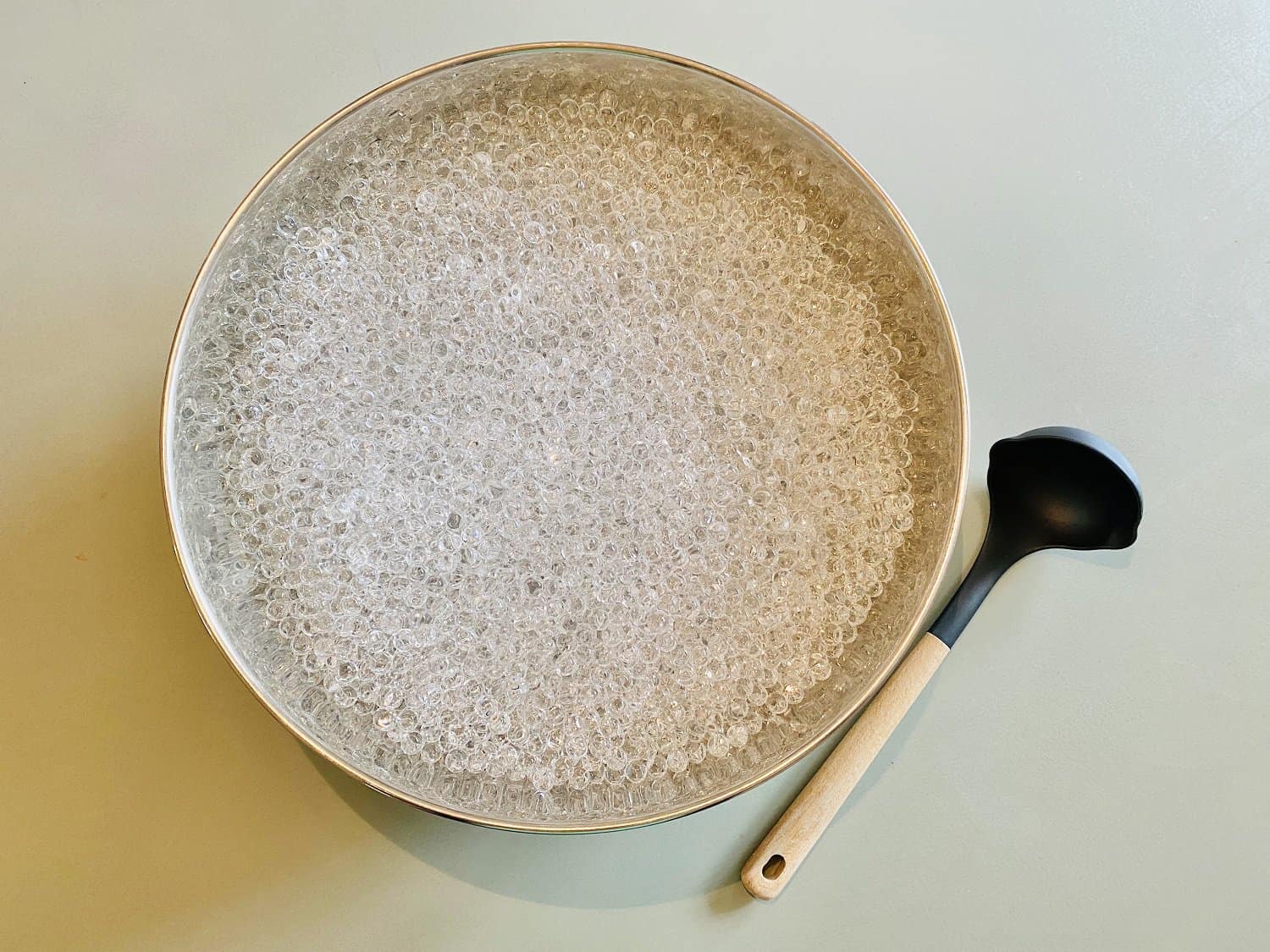 Using a slotted spoon or small colander, transfer the water beads from the tub to a large bowl. This will give you a clear visual of how many beads you have and how many centerpieces you can create.
5. Start Layering Your Vase
First, create thin layer of water beads across the bottom of your glass container.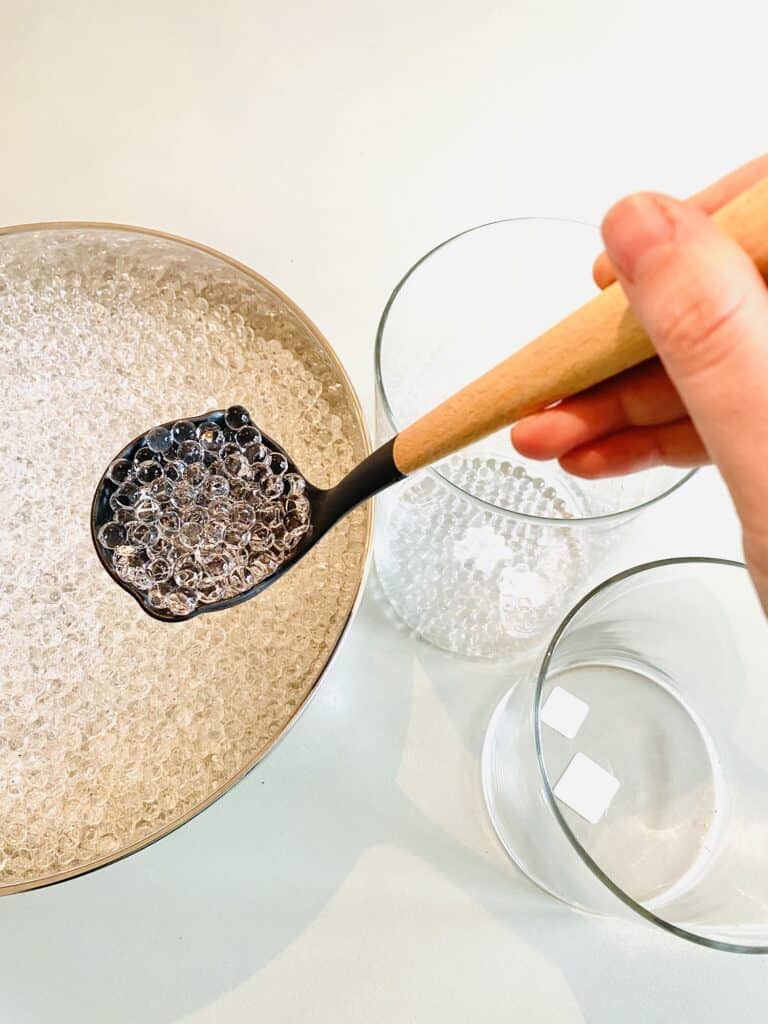 Next, add a layer of your holiday or themed vase filler.
Then, add another layer of water beads.
And finally, add your first layer of succulents. Make sure to face your succulents outward toward the glass.
You can continue this pattern in thin layers until you've gently packed your glass vase, leaving about two inches of space to the top.
I used about three to four succulents per layer, depending on the size of the succulents. To get the succulents to stay up and face the outside of the vase, I had to hold the larger ones up while I spooned some water beads around them.
6. Add Water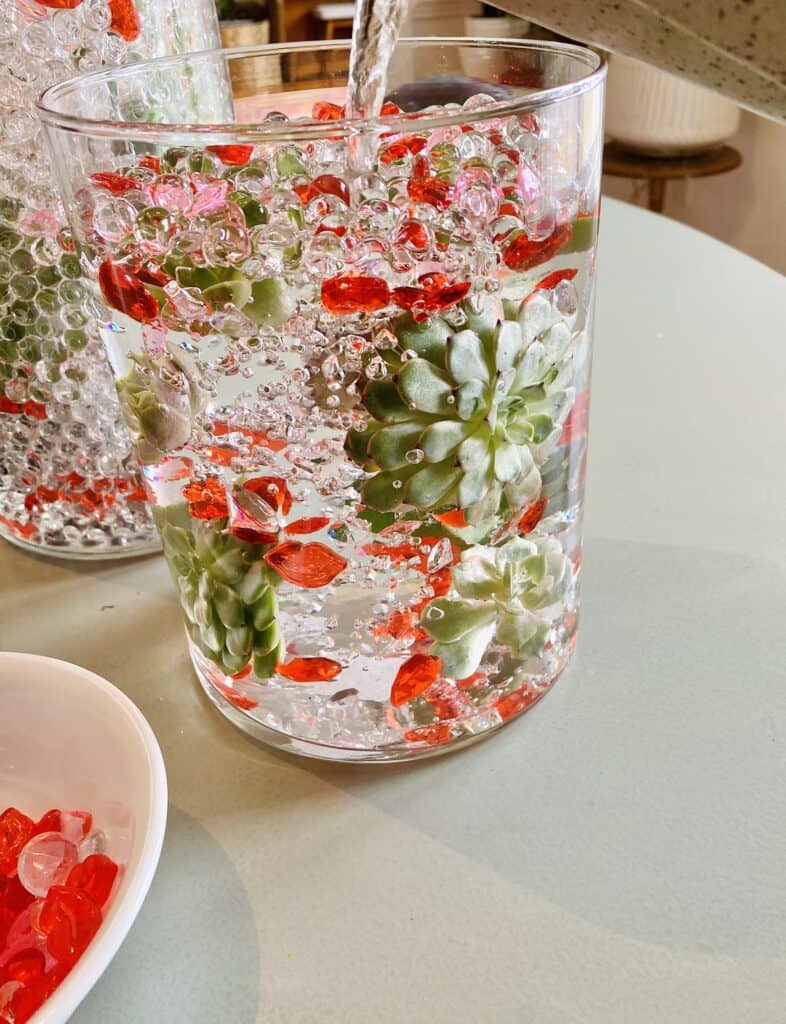 Grab a pitcher of water and *slowly* fill up the vase. You'll immediately see the succulent candle centerpiece become vibrant and colorful as the water camouflages the water beads. The succulents and filler in the vase create a captivating effect, extending the beauty of nature's essence into your home.
7. Top It with a Candle
Place a floating candle of your choice at the top of your centerpiece. I chose flameless candles because they are safer for kids, but real ones would add even more romantic ambiance.
8. Enjoy!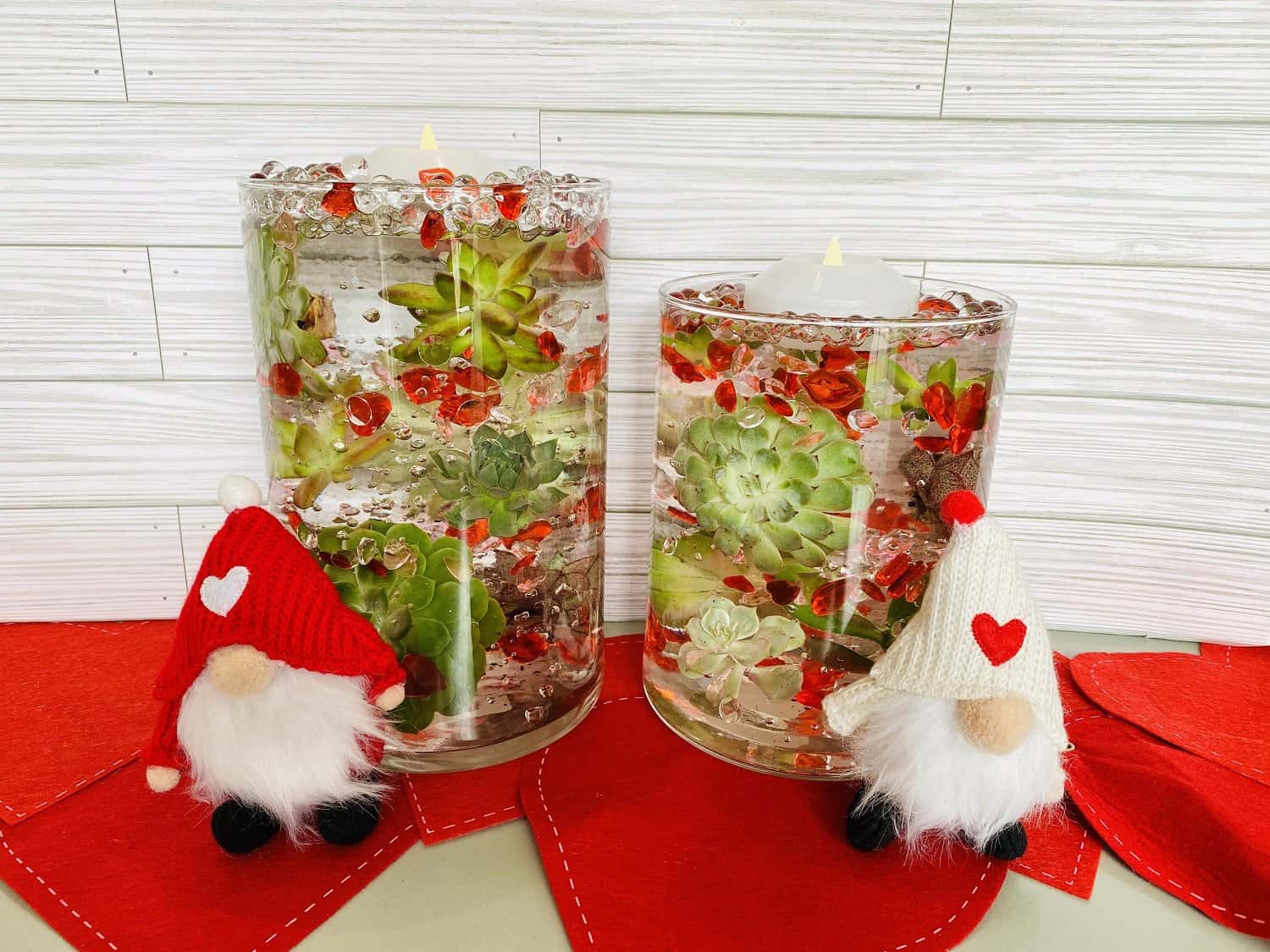 Now it's time to enjoy your newest masterpiece and appreciate the beauty of nature indoors. The succulent centerpiece is perfect for indoor parties, dinners or just a cozy night in with family.
Now you can have a place to use your extra succulent cuttings without having to worry about their care – they will add beauty to your home or venue for a little longer.
Tips to Create The Best Succulent Centerpieces with Water Beads
These succulent candles are versatile and would make beautiful decorations for any venue. But keep in mind that they are not long lasting centerpieces.
For longer-lasting succulent decorations, consider a waterless terrarium design instead. The same basic steps apply but you could use white sand or rocks instead of water beads. This type of centerpiece would be perfect for an outdoor patio, wedding reception or any event where you want the pieces to stay in place for a longer period of time.
It's also best to start your project at the location you are decorating. For example, if you are creating these glass succulent floating candle vases for a wedding centerpiece, bring the materials to the reception location to assemble them. Otherwise the finished pieces could be difficult to transport.
Lastly, don't forget to add a finishing touch with decorations like sea glass, rocks or even pebbles inside and around the vase. This will give your project a unique look that you can adjust easily to match any theme or season.
These beautiful succulent centerpieces that will stay afloat for hours, if not days. Don't be afraid to get creative with your designs and have fun.