How to Make a Living Succulent Wreath for Any Occasion
I absolutely love shopping online for succulents and gardening supplies. If you aren't already saving money by comparing prices online, give it a try! Here are six of my favorite things that I have purchased online as I build my own succulent oasis:
I love seeing wreaths hanging outside during the Christmas season, but it is so sad when everyone puts them away after the New Year. It wasn't until recently that I thought about creating a wreath that could be hung on my door year-round. As my succulent collection grew, it became obvious to me that I needed a living succulent wreath in my life!
A succulent wreath is a beautiful and unique way to bring some life into any home. Not only are they easy to make, but they are also low-maintenance and can last a long time with the proper care. And even then, when your wreath starts to feel crowded or overgrown, you can gently disassemble it and move your succulents to new arrangements or individual planters.
In this tutorial, I will walk you through the step-by-step process of how to make your own living succulent wreath. The beauty of creating a succulent wreath is that this is an art form. That means there are many ways to reach the same result–a beautiful wreath made of succulents. So, all the better if you exercise your creative abilities and deviate from these steps enough to create the wreath you've always envisioned!
What You Will Need:
A wreath frame
Sphagnum moss
Hot glue gun
Green floral wire
Greening pins
Scissors
Wire cutters
Succulents of your choice (anywhere from five large succulents, to 50+ cuttings)
Related: Succulent Christmas Decorations to Spruce up Your Holiday
5 Easy Steps to Create a DIY Succulent Wreath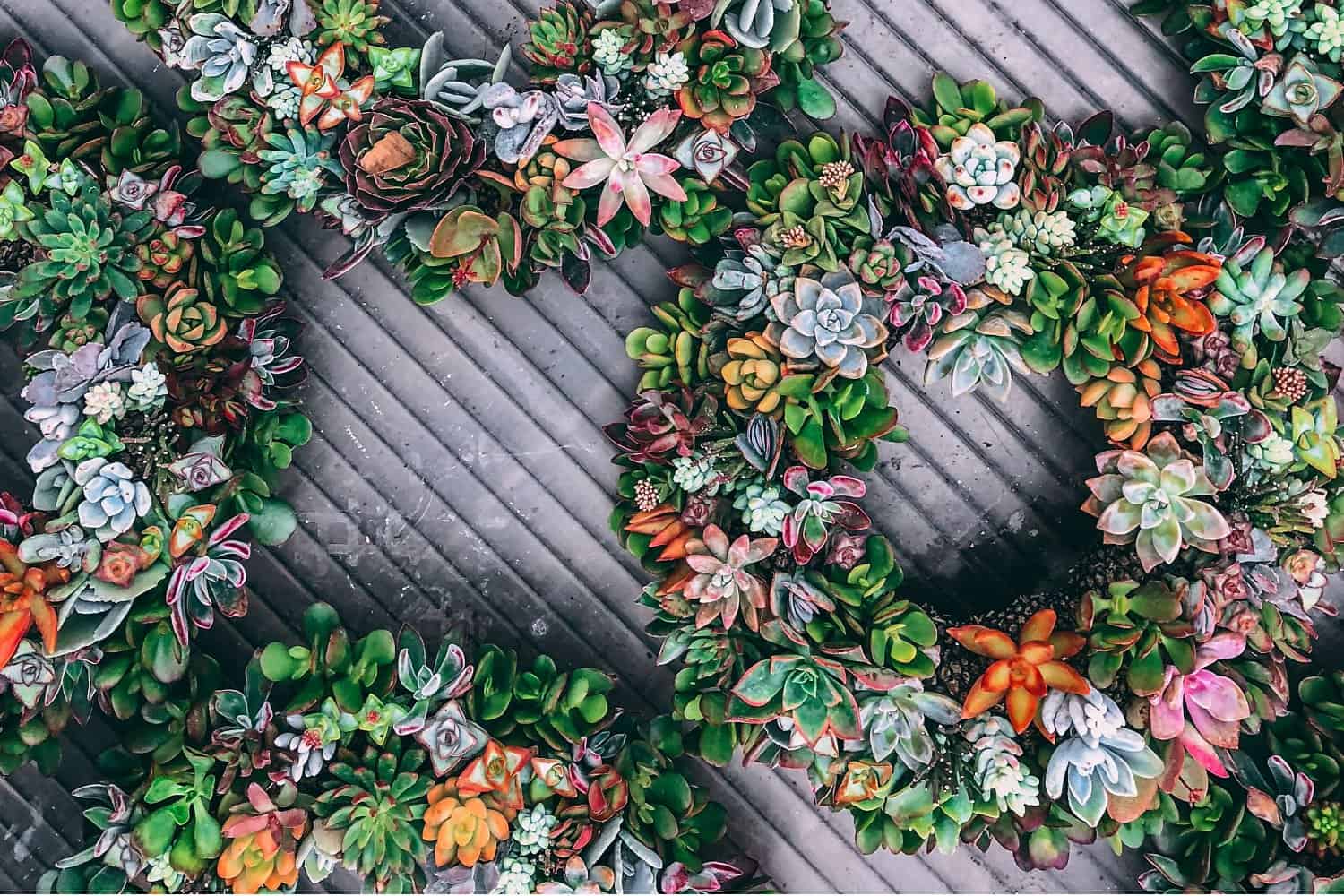 Use these simple steps as inspiration to create a unique succulent wreath for Easter, Valentine's Day, Christmas, Autumn, or simply to enjoy year-round. If you grow and sell succulents, you can even integrate this with your business and sell them for extra income!
Step 1: Create Your Frame
Most DIY succulent wreath tutorials will teach you to buy a living sphagnum moss wreath to use as your frame. This is the easiest route, and they come in all shapes and sizes. But you can also be creative and use something that you have on hand to create your frame.
For example, you can use wire to form a tight cylinder and then form it into the frame for your wreath. You can fill the inside of the frame with loose sphagnum moss which is available at your local garden center or online. The grid openings between the wires will make it easy to plant your succulent cuttings.
You can also use fresh or dried vine cuttings from your backyard. Form them into your wreath base and leave some space in the center to stuff a bit of sphagnum moss for your succulents to root into. They don't need much!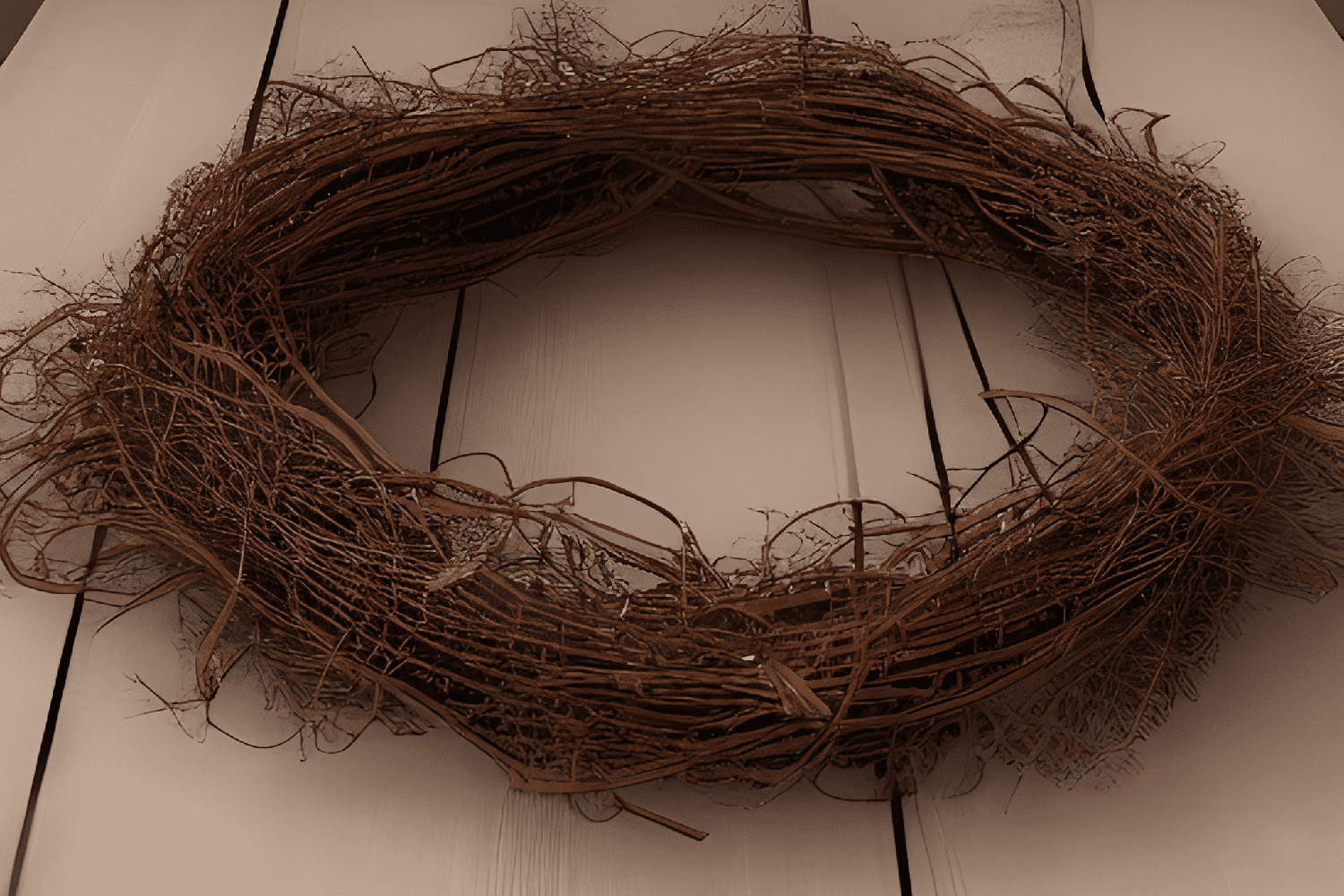 You can even layer some large pieces of cardboard and cut them into a wreath shape. The more layers you include, the stronger your wreath frame will be. Remember that you will need to water your succulent wreath on occasion, so consider wrapping the cardboard in plastic wrap, or spraying it with a sealer.
Be creative, and remember that your wreath doesn't have to be round. If you have wooden pallets laying around, you can cut them up and create different frame shapes for your wreaths like a square, a hexagon, or even a cross. The sky is the limit!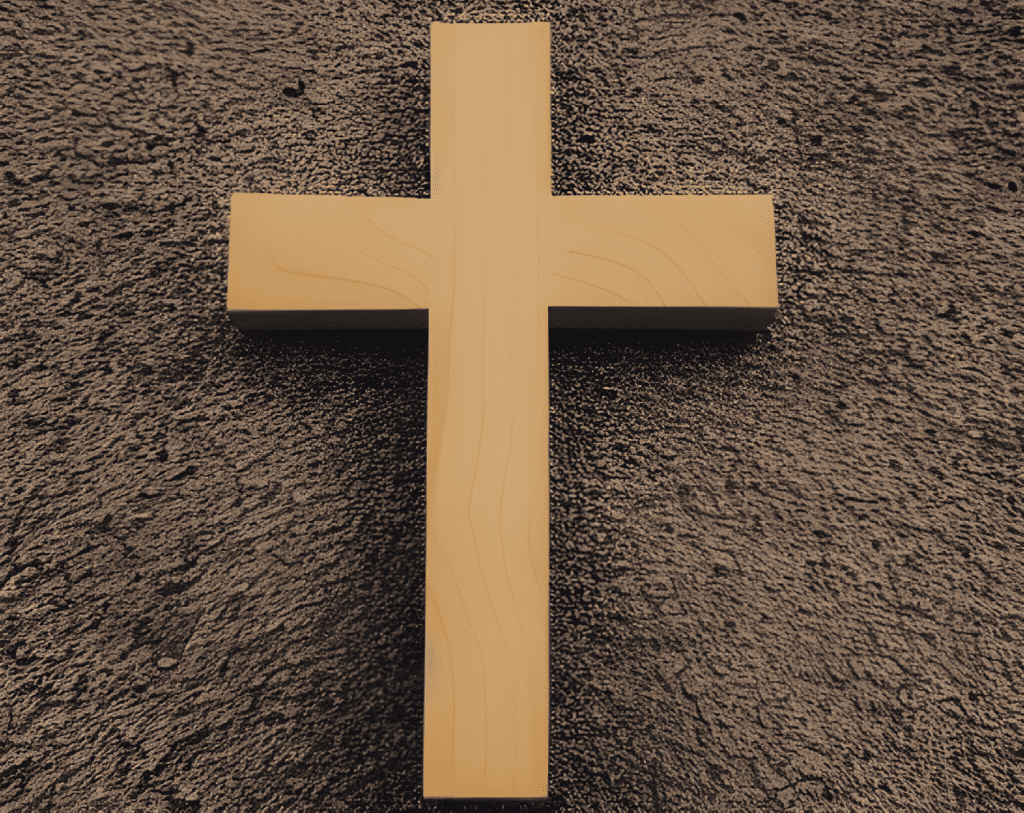 Related: Best Succulent Shelf Ideas
Step 2: Add Sphagnum Moss
Continue creating your wreath by wrapping (or stuffing) the frame with the moss. This will act as a base for your succulents and help them to root which will hold them in place and keep them alive. Use hot glue and wire to attach the moss to the frame. If you want a fuller wreath, feel free to add more moss until you are happy with the coverage. Trim away any excess with scissors.
The only reason you would need to consider how the wreath looks at this point is if you are only adding succulents to a bottom corner as an accent, rather than over the entire frame. If this is the case (like if you're using natural vines), take your time arranging and tightening the frame to look presentable.
Otherwise, it's okay if the frame looks a little sad at this point as it will be completely covered with succulents in the end.
Step 3: Map Out Your Succulent Placement
While you may want to jump right into placing your succulents on the wreath frame, it's important to create a plan, first. This could be as simple as laying your succulents in a circle that's about the size of your frame.
Doing this will help you determine just how many succulents you'll need to create the look you want. Plus, you do not want to place and then pull out your succulent cuttings over and over. It could damage the leaves or stems.
Related: Types of Succulents with Pictures
Step 4: Place Your Succulents
Use your scissors to create a hole in the moss for the stem of the first succulent. Insert the stem of the plant into the hole and secure it in place with hot glue, floral wire, or greening pins.
Don't be afraid if the stem nearly reaches the back side of the wreath. Succulents sprout roots from multiple places, such as where a leaf has fallen or been removed. That means it can grow roots from multiple places and anchor itself to the wreath.
Continue adding cuttings until you have achieved the desired look. Make sure to give each plant some breathing room so that it can continue to grow. The idea is to display a living succulent wreath all year round, not just put it away after Christmas.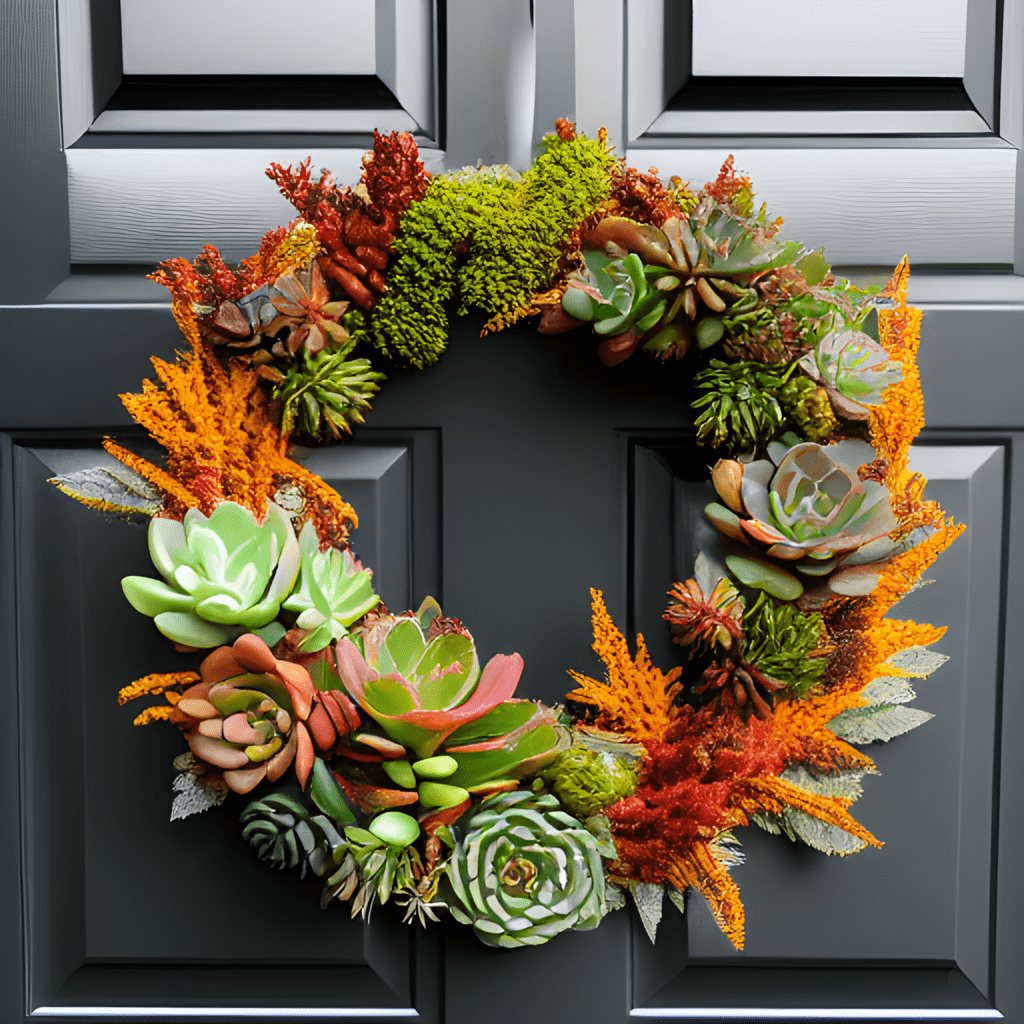 Related: How to Propagate Succulents
Step 5: Embellish Your Succulent Wreath
Using hot glue, fill in any extra spaces and cracks in your wreath with natural objects like pinecones, stones, pieces of driftwood, or even moss. You can also use things laying around the house like lace, ribbon, fabric cuttings, or burlap. Gently add embellishments to your succulent wreath until it's perfect!
Related: DIY Succulent Floating Candle Vase with Water Beads
How to Care for Your Succulent Wreath (so that It Lives Forever!)
When you first create your succulent wreath, I know you'll be tempted to hang it for everyone to see–but, don't. Your fresh wreath is going to need some time to recover before it sees the direct sun or hangs vertically.
Here are some tips to help you keep your succulent wreath healthy and happy:
Keep it Horizontal for a Week
Lay your succulent wreath on a table or countertop for at least one week before hanging it vertically. This will give your plants time to settle and even sprout some roots.
Give it Water
Bring your wreath to a sink or tub and give it a quick shower of water every one to two weeks. Succulents don't like to be sitting in wet soil for long periods of time, but when using a bit of moss as their base, you can expect it to dry out relatively quickly–especially if your wreath is hanging outside in the summer.
Related: How to Water Succulents
Give it Sunlight
Hang your wreath in an area that receives plenty of sunlight, like the outside of a southeast or northwest-facing door. Succulents thrive on sunlight, but only once they have a proper root system. At first, give them only some morning sun or indirect, bright light.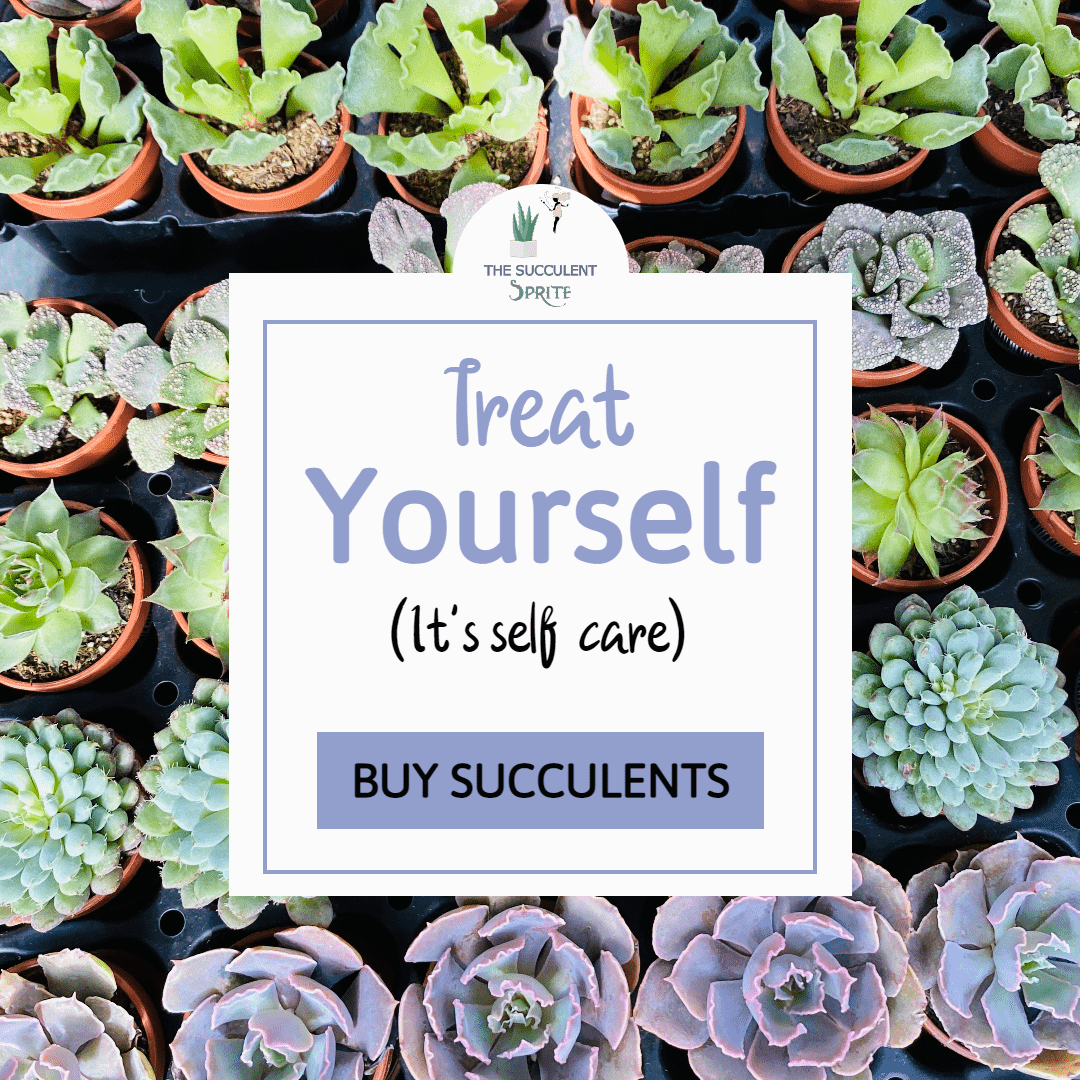 Give it Nutrients
To encourage growth, fertilize your wreath once a month with a succulent fertilizer. The moss may not provide enough nutrients for long periods of time. So if you leave your living succulent wreath assembled for more than one to two months, then they are going to need some nutrients.
Related: Worm Castings for Succulents
Disassemble as Needed
If any of the succulents begin to look unhealthy or overwatered, simply remove them from the wreath and replant them in fresh soil. You can replace them with fresh cuttings, or glue more embellishments in their places.
Enjoy Your Gorgeous Succulent Wreath Year-Round
Succulent wreaths don't have to be put away after Christmas. With a little bit of creativity, you can make a living succulent wreath that will brighten up any room in your home all year round. With just a little bit of time and effort, you can have a beautiful living succulent wreath that adds color to any space in your home.
Succulent wreaths are a beautiful addition to office spaces, family businesses, and homes, and they are surprisingly easy to make. With this tutorial, you will be able to create your own living succulent wreath that will last just about forever. And with a little extra trial and error and practice, you may even perfect them enough to gift them to friends and family or sell them.
Related: Succulent Centerpiece Ideas