20 Things to Include in a Succulent Gift Basket for Starters
I absolutely love shopping online for succulents and gardening supplies. If you aren't already saving money by comparing prices online, give it a try! Here are six of my favorite things that I have purchased online as I build my own succulent oasis:
Just when you think your friend has every variety of succulents that you can possibly imagine, a birthday or holiday comes up and you're stuck asking yourself what you can get for them.
Well, you're in luck! This list of the best succulent gift basket ideas will help you celebrate their love of plants. From succulent gardens to beautiful planters, there is something for everyone.
So don't procrastinate any longer – scroll down and start shopping for the perfect succulent gift! As an avid succulent plant owner, I can personally attest that these gifts will delight any true succulent fan.
What Are Succulent Plants?
Succulent plants are known for their thick, fleshy leaves. These plants store water in their leaves, which helps them survive in dry climates.
Succulents come in a wide variety of shapes, sizes, and colors, making them a popular choice for indoor and outdoor gardens.
Why Succulents Make Great Gifts
Succulents make great gifts because they are low-maintenance plants, which means they are perfect for people who don't have a lot of time to care for their plants. Succulents also come in a wide variety of colors and shapes, so you can find the perfect plant for any style of home or garden.
Additionally, succulents are known for their ability to survive in tough conditions, so they make a great gift for someone who lives in a harsh climate or isn't particularly adept at keeping to a rigid watering schedule.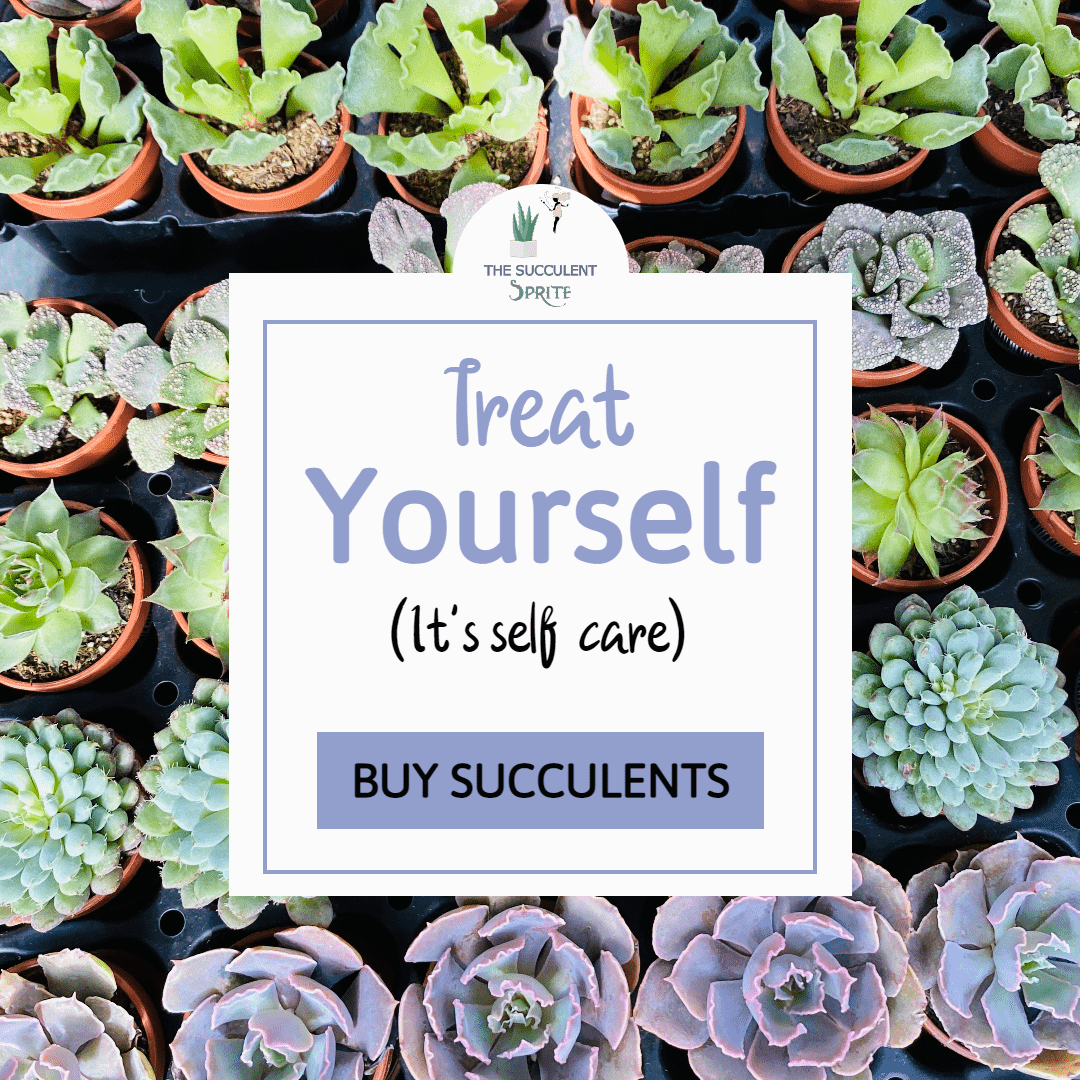 Related: Succulent Christmas Decoration Ideas to Spruce up Your Holiday
Succulent Gift Basket Ideas for Planting
If you received wind that a friend or family member is fawning over the possibility of planting succulents, these gift ideas will help them get started with ease. You can quickly put together the best succulent gift box a new gardener could ask for!
1. Seed Starter Growing Kit
The perfect gift for the gardener in your life, this seed starter growing kit includes four pots with trays and organic soil enhancers to make sure plants are established properly.
It also comes equipped with two expanding solid discs (which can expand up to one quart of loose potting mix) as well as mixed cactus seeds or succulent spores so you can feed your plants nutrient-laden water!
There's even a How To Grow Guide included, which takes away the guesswork when it comes time to enjoy their new homegrown produce.
Related: Valentine's Day Themed Gift Basket Idea
2. Succulent Potting Mix
This premium soil is the perfect way to ensure succulents and cacti varieties grow up happy and strong. It features fast-draining technology with plant-loving ingredients like sphagnum peat moss, forest products, and fertilizer. These are also certified by the Mulch & Soil Council whose mission is to uphold industry guidelines.
3. Cement Planter
This boho pot is a perfect decoration for your home! It's made from high-quality cement and finished with an earthy tone. The size of this 5 1/2″D x 4 7⁄8 "H planter will hold plants that are up to two inches tall, so you can create mini oases inside or outdoors if desired.
4. Succulent Tools
This all-in-one care kit includes thirteen different tools, six white ceramic succulent pots, and a work mat. It also comes with a storage bag for easy transportation or an organizer case to keep everything together! This mini succulent gift basket idea provides all of the necessary supplies right at hand.
5. Gardening Gloves
These gardening gloves are tough yet lightweight with durable leather. They'll protect your palms and fingertips from injuries like cuts by sharp thorns or prickles in the plant world! The pigskin material ensures they're easy to manipulate for tasks that require dexterity, like caring for tiny succulent plants.
6. Decorative Stones for Indoor Potted Plants
These rocks are not only beautiful, but they also have a special property that allows them to be lightweight and improve drainage. They can help succulents breathe easier by adding more oxygen into the soil.
7. Succulent Seeds for Planting Indoors
Rare Mini Rose Succulent & Cactus Mix Seeds are perfect for succulent enthusiasts! This collection includes 300 seeds to help any beginner start a succulent garden. With such an extensive variety of shapes, sizes, and colors there is no end in sight when it comes down to growing succulents.
8. Radiant Rosette Collection of Live Succulent Plants
Give your friend the gift of live succulents. This is a set of 32 Rosette succulents that are each in a 2″ pot. This is a great way for anyone to get started with the beauty of succulent plants.
9. Succulent Fertilizer Spikes
Succulents are known for their hardiness, but they need some special care. Root hypertrophies can be caused by over-fertilization or poor soil quality–which is why it is a good idea to feed them with this slow-release fertilizer! It's safe to use around people and pets so your plants have year-round success.
Related: How to Fertilize Succulents (A Complete Guide)
10. White Succulent Planter Pots
These two Farielyn-X 11.1 inch long succulent planters offer the perfect home for succulents of any variety. They are extra large in size allowing plenty of space to grow healthy and happy!
More Succulent Basket Ideas for Plant Lovers
Perhaps you would love to buy a succulent-themed gift instead of growing one. We have you covered there, too!
Your friend doesn't need to be a pro gardener in order to enjoy these succulent gift ideas. Instead, they can incorporate any of these items into their already busy life.
11. Personalized Minimalist Succulent Gift Box
This succulent planter is great for those who want to get started in gardening or have an extra plant that needs a home. The bamboo base makes it perfect as a gift along with the personalized pot! You can choose to add a live plant or just gift the planter.
12. Solar Garden Statue Turtle Figurine With Succulent
How adorable is this turtle figurine with succulent lights? This solar post light is renewable and burns with clean energy powered by electricity converted from the sun during daylight hours. It's stored in a rechargeable AAA battery which lasts up to eight full hours. The succulent plants are not real on this statue.
13. Succulent Care Guide
This printable guide can be personalized with a special message. Caring for succulents properly is important if the tiny plants are expected to thrive. This is a great reminder, even for those veteran gardeners.
14. Succulent Wall Art
Succulents are a great way to add some color and life to any home. These 4-inch succulent plants in square format would be perfect for any living room, den, or bedroom! Plus, since they're digital downloads that can easily be printed at home on standard printers, this affordable succulent gift idea will bring happiness to anyone.
15. Succulent Personalized Tumbler Cup
This personalized succulent tumbler cup will put a smile on your succulent-loving friend's face! It features the name you choose in elegant lettering and has an ombre effect that is sure to please. You can choose between 20oz and 30oz tumblers.
16. Personalized Succulent Garden Metal Sign
This durable personalized succulent garden aluminum metal sign is perfect for proudly hanging inside or out. It comes with two screw holes, making it easy to mount. It's light enough that you can place double-sided foam tape on the back if preferred.
17. Succulent T-shirt
We all need some humor in our lives. This "I'm a succa for tiny plants" t-shirt is a great way for your friend to show off their sense of humor and love for succulent plants.
18. Succulent-Themed Dish Towels
These Swedish handy dish clothes are great for washing dishes because they stay dry and hard at first, but once they come in contact with water these reusable cloths become soft. They can be used anywhere with ease!
19. Ferris Wheel Planter
What's more classic than a Ferris wheel? This one is perfect for your succulent flower display, with its elegant design and strong metal holder. It only takes six sweet succulents to make it complete.
20. Hardcover Undated Weekly Planner
We all like to stay organized and remember important events. This undated weekly planner has an adorable cover with succulent plants on it. It makes the perfect choice for one of our favorite succulent gift basket ideas.
Succulent Lovers are Easy to Please
There are so many great succulent gift ideas available for the plant lover in your life. No matter what their interests are, you're sure to find something that will make them smile.
Plus, succulents make great gifts for any occasion! We hope these succulent gift basket ideas help you find the perfect gift for the succulent lover in your life. They are perfect for any succulent enthusiast.