How to Make a Living Succulent Christmas Tree
I absolutely love shopping online for succulents and gardening supplies. If you aren't already saving money by comparing prices online, give it a try! Here are six of my favorite things that I have purchased online as I build my own succulent oasis:
Ah, Christmas–the time of year when everything is displayed in red and green and trees become a normal item of indoor decor. I love it! This year, I wanted to include my plants in the mix by creating a succulent Christmas tree.
My family will still enjoy our Christmas pine tree tradition, and we can even hang these adorable succulent ornaments on it as well. Whether you want to add to your current traditions or replace them, you can't go wrong with bringing more succulents into your life!
A succulent Christmas tree is a fun, unique way to show off your succulents and add some holiday cheer to your home. This project is easy to do with a few supplies and some plants, and it makes a great centerpiece or wall decoration.
Supplies Needed: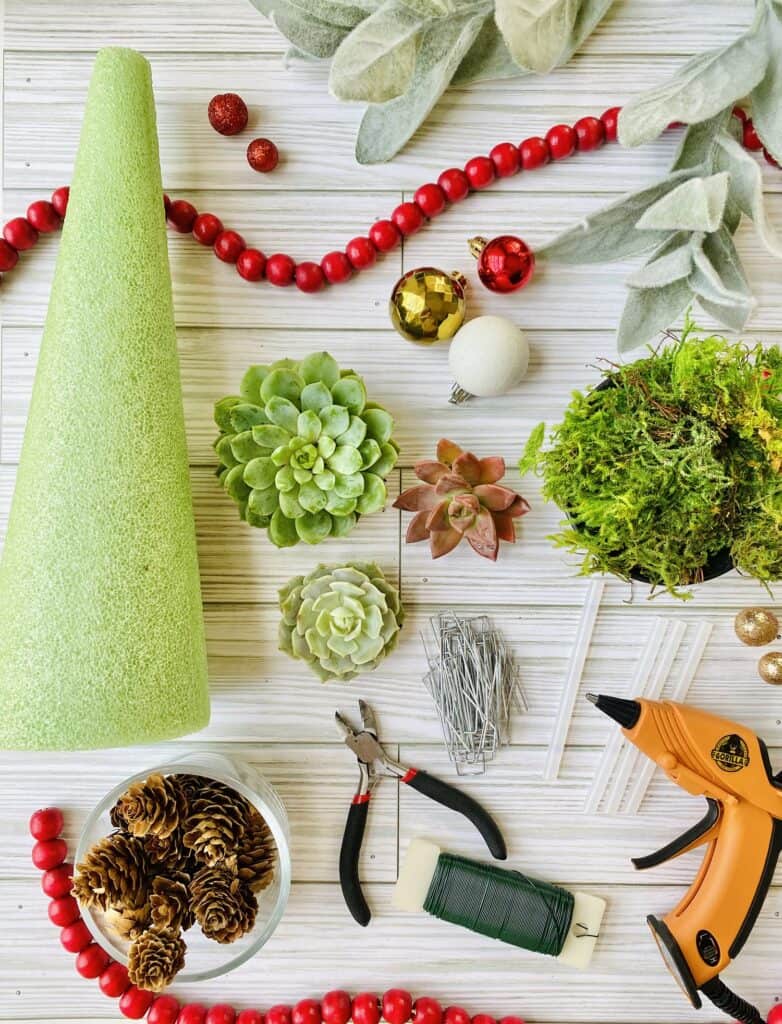 Related: How to Make a Living Succulent Wreath
5 Steps to Create a Living Succulent Christmas Tree
No rule says "you must follow certain steps" to make your own succulent Christmas tree. In fact, the more creative liberty you exercise, the better your outcome! So use these steps as inspiration only, that way you can create a unique and lovely succulent Christmas decoration that fits your style.
1. Choose a Styrofoam Base
If you are creating a centerpiece, a Styrofoam cone will make a great 3D base (or trunk) for your tree. You can find these at most craft stores, and they come in a variety of sizes. I like the look of using small ones, but you could use a larger cone if you want a taller or wider tree.
White styrofoam is sufficient, but if you are concerned that you won't have enough succulents to cover every bit of the base, then consider using a green floral cone base.
If you prefer to hang your succulent Christmas tree on the wall, you'll want to create a flat base. You can start with a large rectangle-shaped piece of styrofoam, draw the shape of your tree, and cut it out to your liking. This method will allow your tree to lay flat against the wall. There are white and green options available.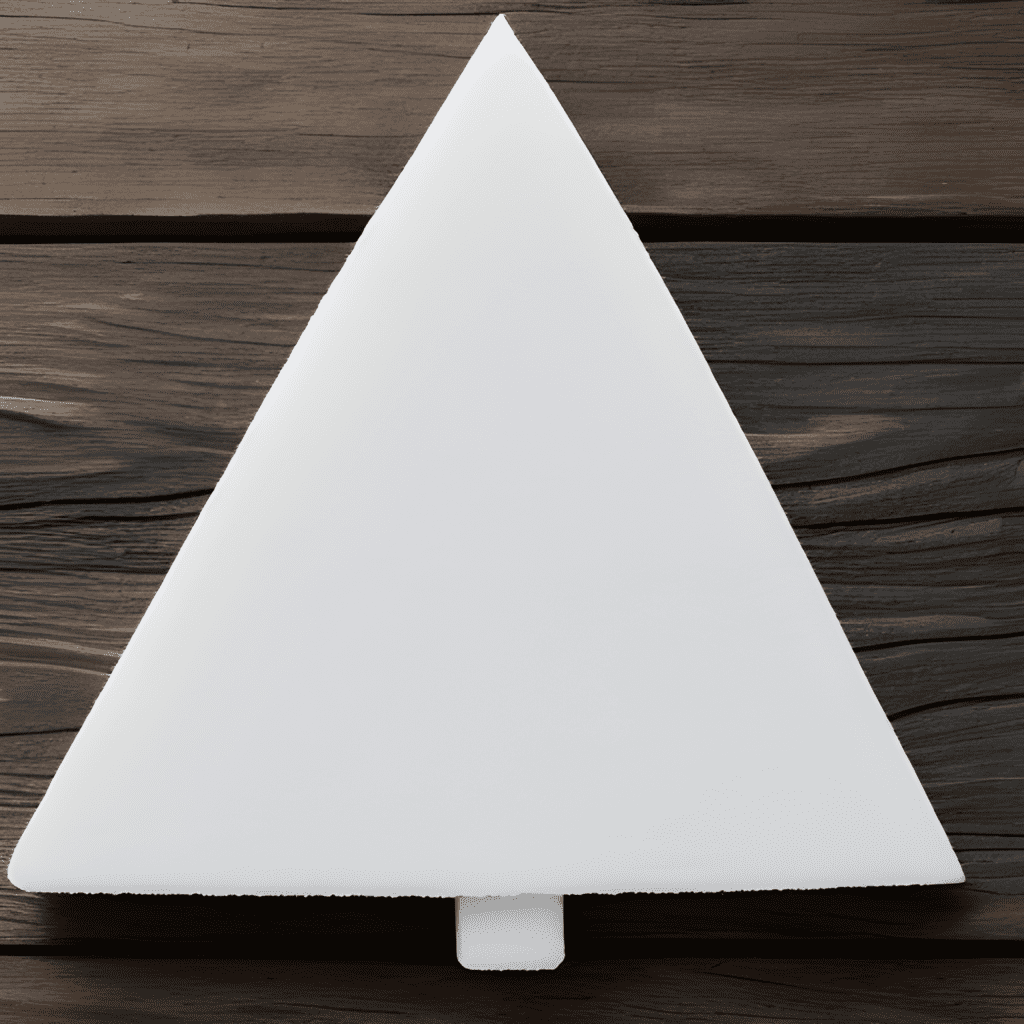 2. Prepare Your Styrofoam Base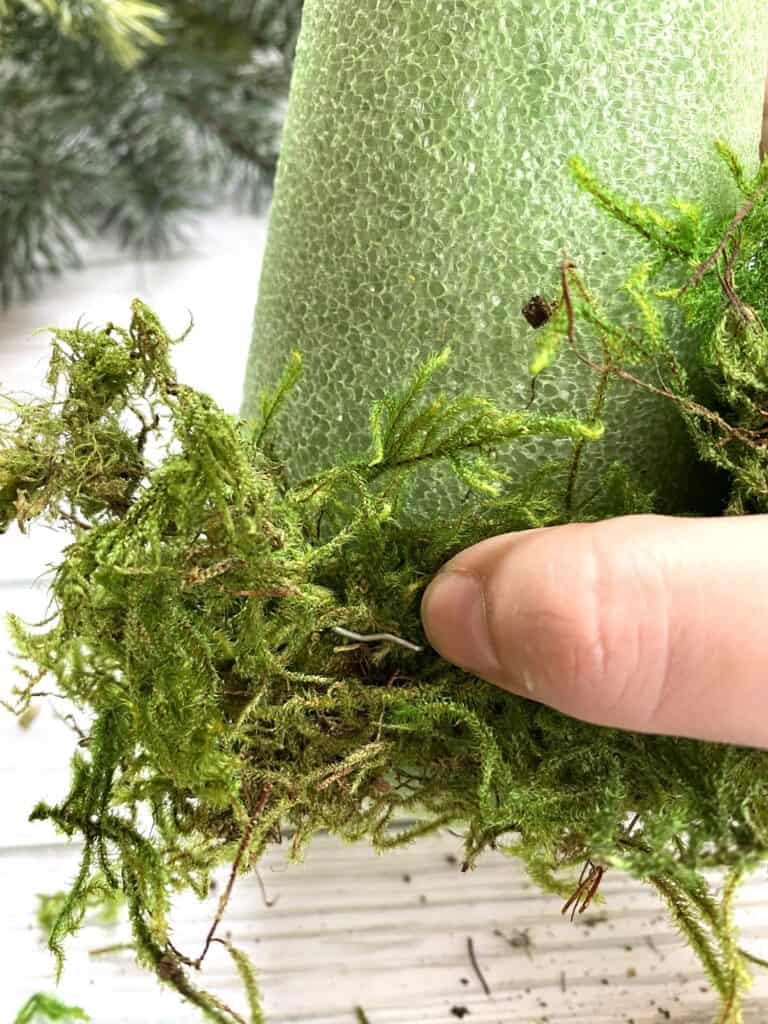 Add a layer of decorative moss to your styrofoam cone. Start at the base and work your way up to the top. Use greening pins or hot glue to secure the moss to the styrofoam.
You can also wrap the cone with floral wire (or something similar). This will give you something to attach the succulents to and help keep them in place. If your styrofoam base is stiff and compact enough, you may be able to use greening pins without the wire. But if your succulents are large or heavy, use both!
3. Attach Your Large Succulents with Greening Pins
Use greening pins to attach the larger succulents to the Styrofoam cone. You can also use the floral wire to secure them as needed. Place a cutting inside of the pin and then press it down into the styrofoam at a slight angle. This will help keep the pin from falling out over time.
Work in sections, starting at the bottom of the cone and working your way up to the top. As you move up, start placing smaller succulents so that they don't make your tree top heavy. You want the base of your tree to be the widest, but you also want the tree to cascade downward in layers (like a real pine tree).
Related: Creative Succulent Planter Ideas for Indoor or Outdoor Use
4. Fill in the Gaps with Small Succulents
Once the larger succulents are in place, fill in any gaps with smaller succulents. You can design this in any way you'd like, but some examples include using all large green succulents and then filling gaps with small colorful cuttings (to look like ornaments). Or you can create a gorgeous mixture of colors. There are so many options, and the best part is that you can use the succulents you already have on hand or buy some new ones.
Related: How to Make a Living Succulent Garland
5. Decorate Your Succulent Tree (Optional)
Secure your succulent tree into a shallow bowl or onto a plate or platter. You can use anything as the base and just wash it up later when you disassemble your tree. Add some decorative moss to bring the design together.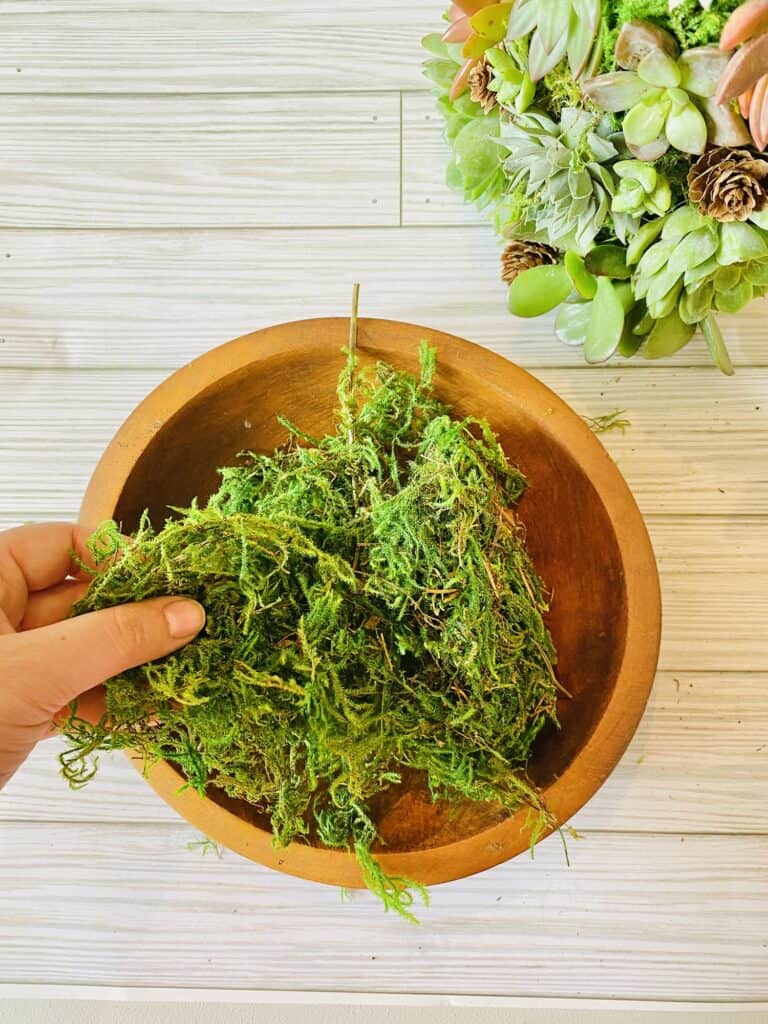 If desired, decorate your tree with small Christmas tree decorations. I like the look of small pinecones and clippings from the branch of a pine tree to keep the piece looking as natural as possible. But you could also use mini lights, bows, ribbons, ornaments, etc.
This is a great option if you want to make more Christmas tree centerpieces using fewer succulents on each one. Whether you're selling these locally or gifting them to friends and family, you can make those succulent stretch a long way without sacrificing beauty. Get creative and have fun with it!
How to Care for Your Living Succulent Tree
Caring for your succulents while they are part of your Christmas decorations will keep them thriving and happy. That way you can replant them into new pots or transfer them to new decorative pieces as the seasons change.
Give it Sunlight
Your succulent tree will need bright, indirect sunlight. If you are keeping it indoors, place it near a sunny window. And if you are displaying it outdoors, make sure it is in a spot that gets some sun but is not in direct sunlight for long periods of time (especially during the summer).
Give it Water
Succulents are drought-tolerant plants, so they don't need a lot of water. In fact, too much water is more likely to kill them. So err on the side of caution and only water your tree when the piece is completely dry. A good rule of thumb is to water about once a week or every other week.
Give it Warmth
Succulents can tolerate a wide range of temperatures, but they prefer to be on the warmer side. If you are displaying your tree indoors, make sure the room temperature is above 50 degrees Fahrenheit. And if you are keeping it outdoors, bring it inside or find a new spot for it if temperatures start to dip below freezing.
Give it Attention
If you notice any leaves falling off or succulents dying, simply remove them and replace them with new cuttings. This is normal and expected, so don't be discouraged! Also, check the piece every now and then to make sure the succulents are still securely in place.
Dismantle it Carefully
When it's time to take down your succulent tree, do so carefully. Gently remove each succulent and pot them in their own individual pots. Or you can place them in a new decorative arrangement. Just make sure to use well-draining soil so that they don't sit in water for long periods.
Related: How to Choose the Right Pot for Your Succulent
Enjoy Your New Succulent Christmas Tree
Now that your tree is complete, find the perfect spot for it and enjoy! If you made a centerpiece, be sure to keep it away from any heat sources and out of direct sunlight. A windowsill or the center of a table is a great spot for it. If you made a wall-hanging tree, find a sunny spot where it can get some indirect sunlight.
A succulent Christmas tree is a beautiful, easy-to-care-for addition to your holiday decorating. With just a few supplies and some plants, you can quickly put together this project. So get creative and add a little something different to your holiday decorating this year with a succulent Christmas tree!
Related: How to Make a Living Succulent Pumpkin Planter